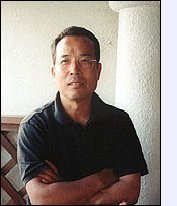 The Matsunosuke website was created to communicate knowledge of Nishiki Koi. Through this website I would like to share my accumulated knowledge from my own experience in Nishiki Koi breeding over the past thirty years. It is my hope that this website will be helpful to customers, dealers, and hobbyists alike, in many countries. My ultimate goal is to promote "Nishiki Koi breeding" as an art form throughout the world.

A good understanding accompanied by trained eyes to see, appraise, and select makes it possible to evaluate the present value, as well as, the future potential of Nishiki Koi. It is most important that our customers and hobbyists who love and care for Matsunosuke are happy and satisfied with their investment in Nishiki Koi. I believe satisfaction yields a higher level of enjoyment and value in return. It would be my greatest pleasure to see our customers find enjoyment and healing through the Nishiki Koi hobby.

My family and staff members will participate in the efforts to bring unique and helpful information for the Nishikikoi hobbyists from Isawa and Niigata. Our mission is to promote the understanding of Nishikikoi as well as the cultural environment where Nishikikoi is developed and produced.

Membership offers unique benefits. The annual membership cost is $54 US dollars or equivalent Japanese Yen. All members will set up an account protected by a password and a username.